I was back from Kelantan, northern state of Malaysia recently. But I have no idea which topic to touch on first, so I think it's better to have a start with Kelantanese's yummy food.
Kelantan consists of 95% Malay race, its food focus definitely be on Malay food.
此文中译版 Chinese version of this article
I have a Kelantanese friend, who strongly recommended me to try this Nasi Kerabu, but yet he didn't know the source of the nice Nasi Kerabu (as his mom bought home for him always, and he just lying on the home and enjoyed the food). Thus, the only way he recommended to me was going there to look for it myself… and he would bless me to grab one…..
When I was there nearby Istana Jahar,Kota Bharu, we sensed very delicious fried chicken smile coming from somewhere, and it brought me to these 2 vendors' stall which located near to the UMNO building.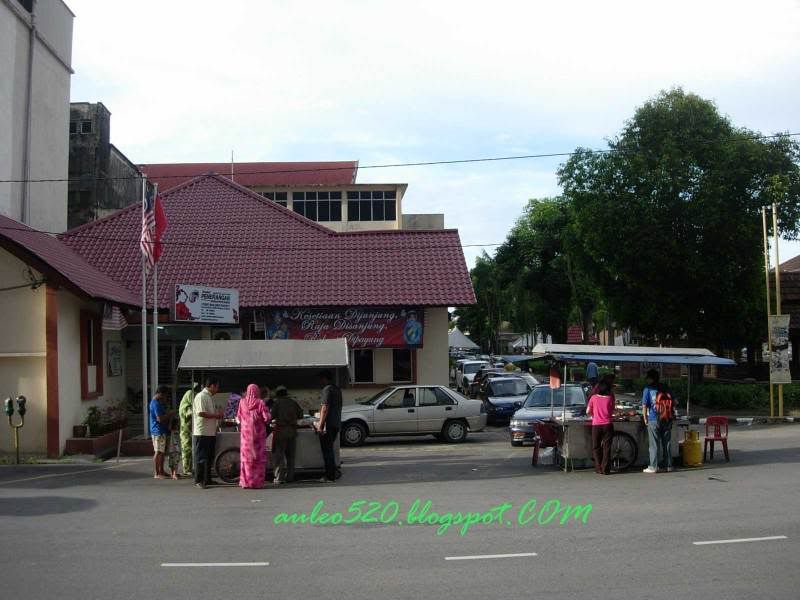 One vendor selling Nasi Dagang , the other was selling Nasi Kerabu.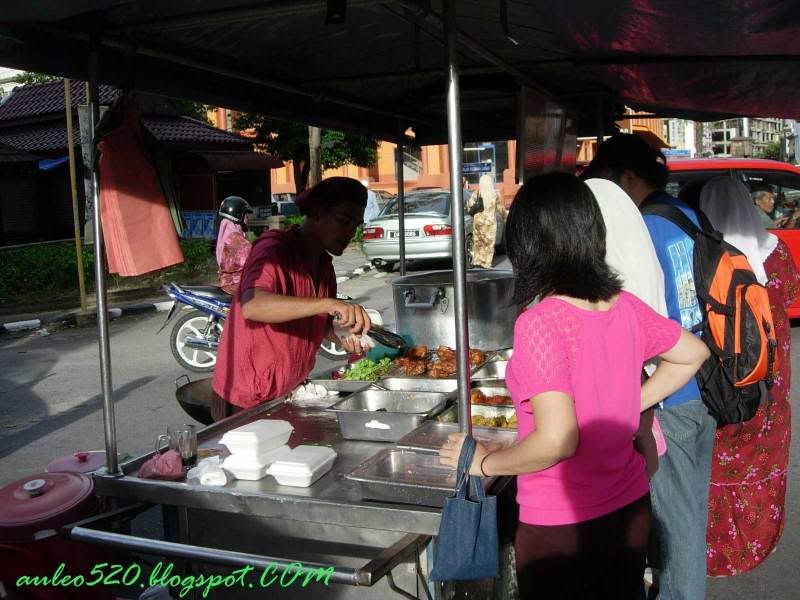 While looking on the blue-coloured rice, I felt so attracted but yet I have no idea the blue colour sauce was made of what ingredient.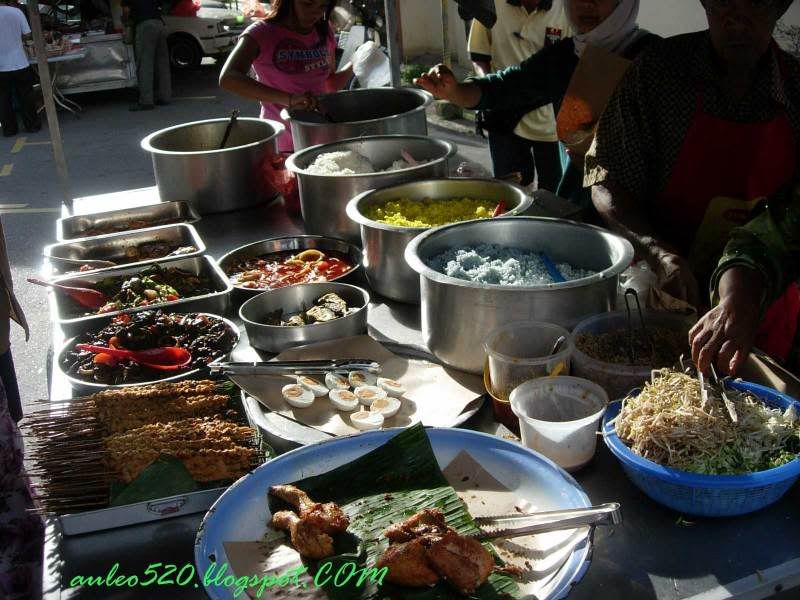 Nasi Kerabu is using this kind of blue-coloured rice, mixed with coconut blend, and I extra ordered a fried drumstick, all together is only RM3, the price was so reasonable.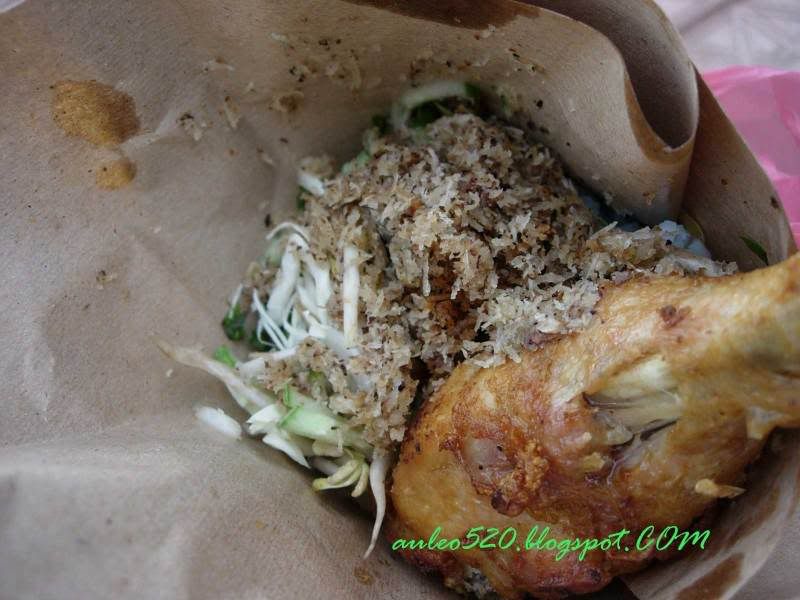 Friend chicken in Nasi Dagang was excellent as well, which my brother praised and praised after that, priced RM3.50.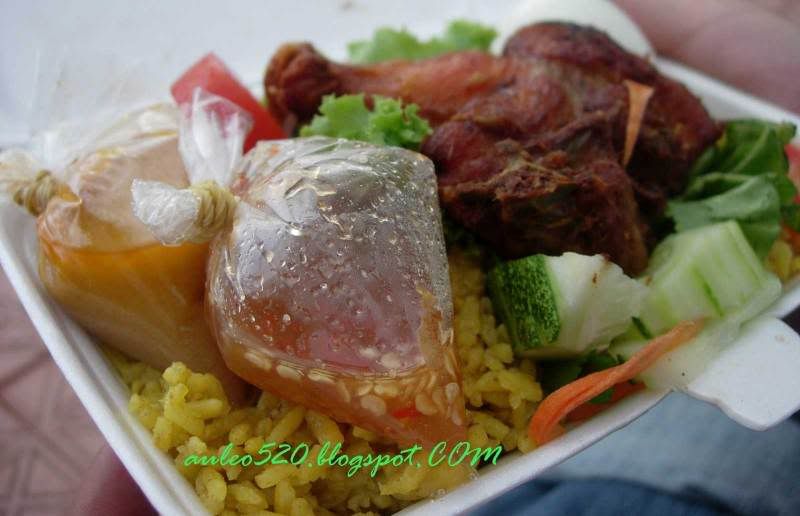 You can call it unlucky or lucky enough, the street vendors didn't provide any plastic spoon or fork or any equipment for taking the nasi, causing us "blessing" enough to eat the rice with local style-eating using own hand on the street…
I was addicted to the tastiness of nasi kerabu, as I was taking another nasi kerabu the next meal- breakfast at the reknown Pasar Khatijah.
But yet, I think I was misled by the sotong in this another vendor, as this breakfast cost me RM9.00, which was almost the most expensive breakfast I ever had in my life.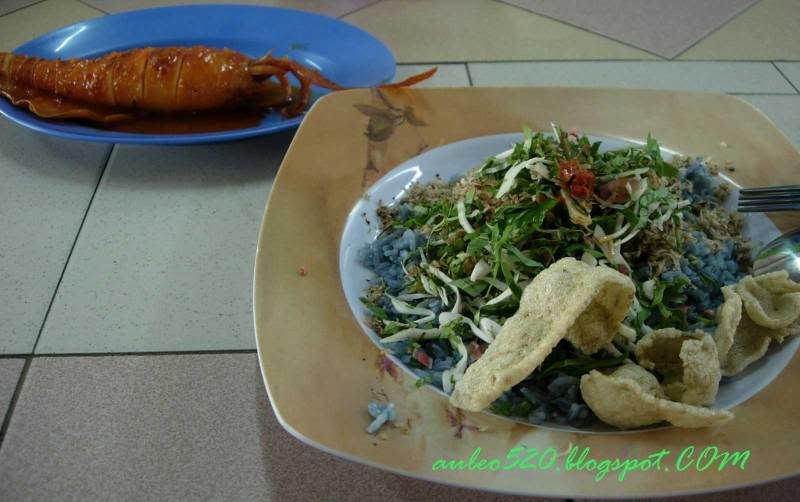 For dinner, Kota Bharu has an open space which is called Bazaar Buluh Kubu (the name is pretty called to pronounce out). There are many stalls selling different Kelantanese food and this is located near the pantai timur shopping mall (do take note that there is another Bazaar Buluh Kubu nearby which is a place for souvenir shops, the Bazaar Buluh Kubu on the tourism brochure referred to this, so please don't be misled).The Bazaar Buluh Kubu is located at an open car parking space nearby.
The food selling in Bazaar Buluh Kubu are all seems very delicious, e.g this murtabak vendor. His murtabak sold at good price but yet very tasty. I tried on beef murtabak and it only cost RM1.70, though the beef was not too much, yet it's enough to fit one's starving stomach.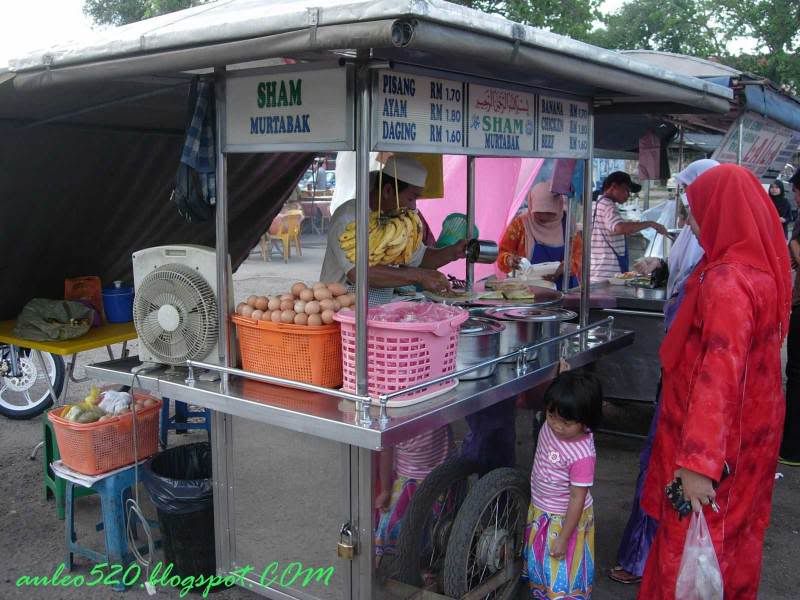 Before I came to Kelantan , I read a recommendation from a friend on Cari Forum, to this Yati's stall.Her Ayam Percik was superbly nice, but yet the price was a bit too pricey…. RM8.50 for 2 drumstick. Mixed with the special made sauce, it was too tasty until I forgot to take its picture.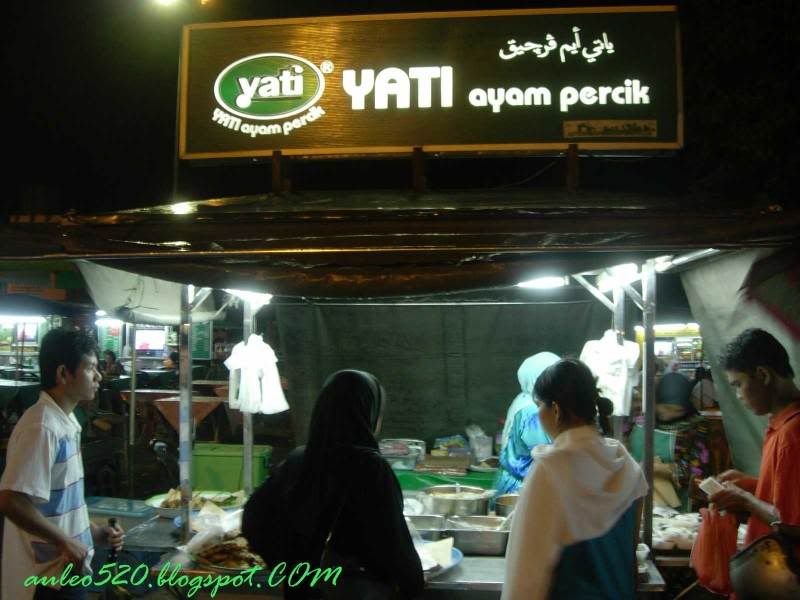 While in Bazaar Buluh Kubu , my personal advice is don't go for its nasi lemak, it's because it's just a normal nasi lemak with friend egg yet cost RM2.I thought Kelantanese Nasi Lemak would have some special , but compared with either price or taste, both also lost to the nasi lemak stall near to my house in KL.
During night time , it's very happening at the Kelantan china town –Jalan Kebun Sultan, besides the many-places-can-be-found Chinese food , here you can find some very good business malay stalls.
There is no free lunch in the world, these stall are famous not because of no way. For instance is this stall who sold rice in steam bowl.Their business was so good until I had an impression that their movements are the fastest among the Kelantan malays.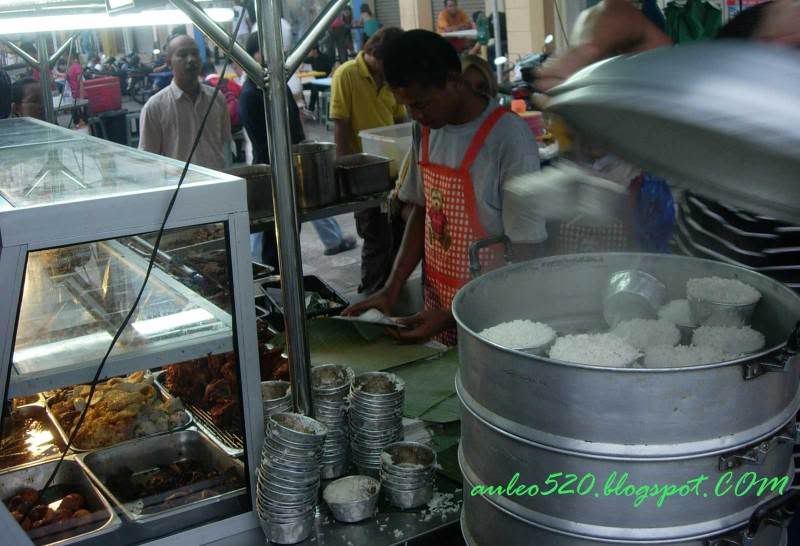 This is actually a mix rice stall, besides malay specialty –fried chicken, this is their weapon –the chilli !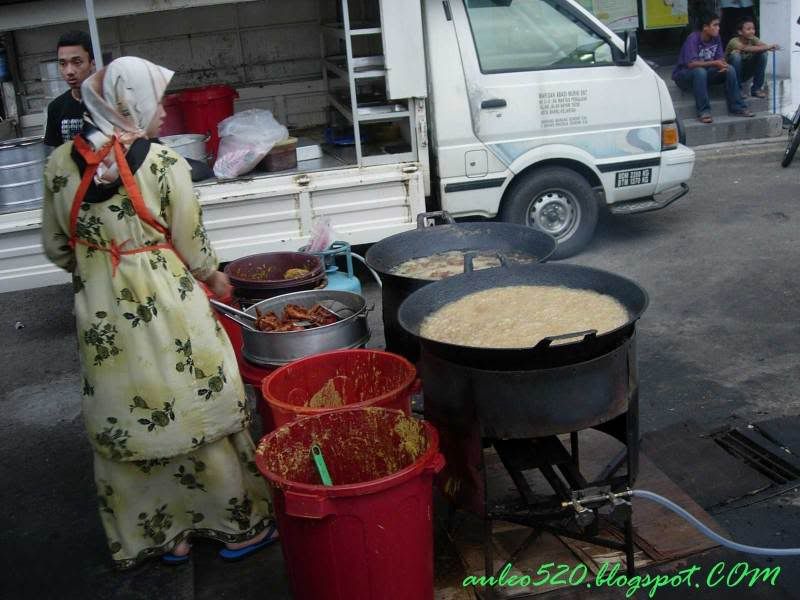 Maybe the small bowl steaming helped in stimulate my appetite, I felt trying once more after finishing my packet! You can't help your saliva when thinking their chilli..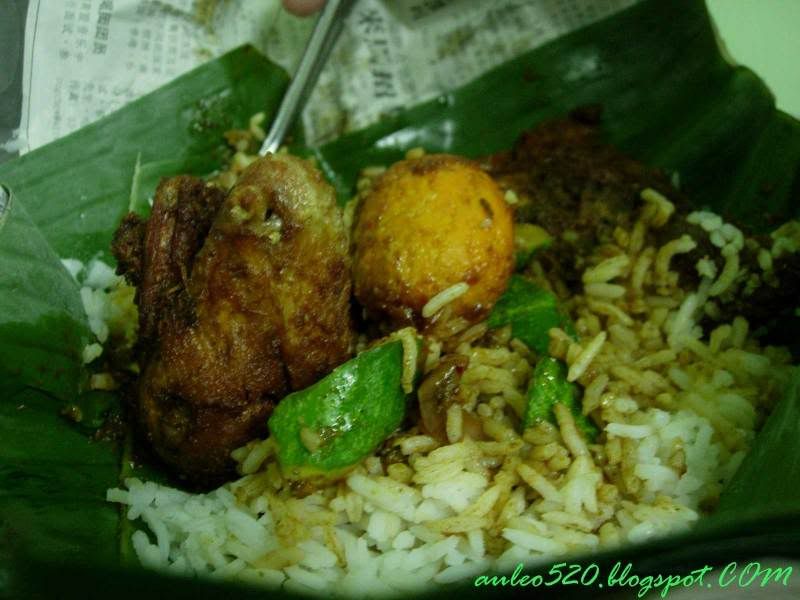 Expenses in Kelantan is not high, there is another satay stall beside this steamed rice stall, only 40cents for 1 stick ,which is cheaper than a lot more small towns in Malaysia.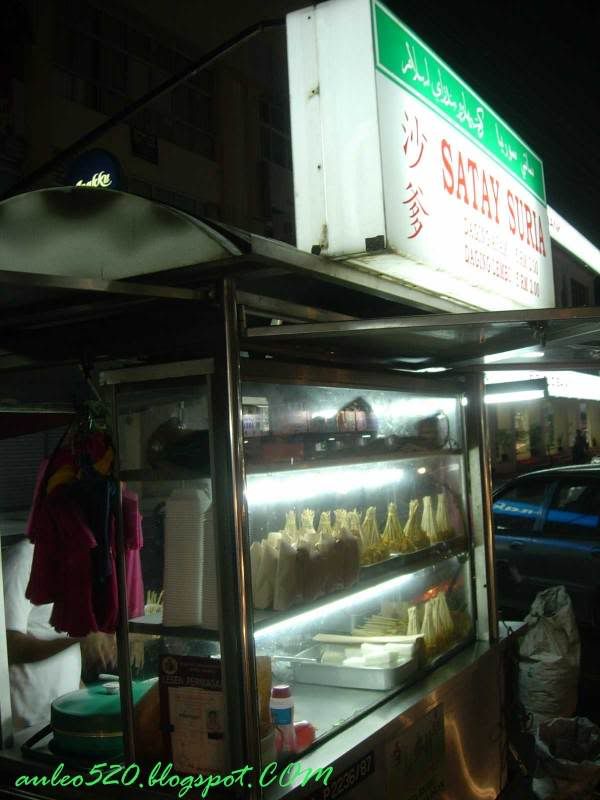 There are yet still lots more delicious food in Kelantan , which I missed out during this trip. Feeling regret of not having enough chances to explore all, but I think this would be the reason I come back to Kelantan in future ,for instance if I were to go Pulau Perhentian, I surely go by Kota Bharu way. To fulfill the regret I had in KB.