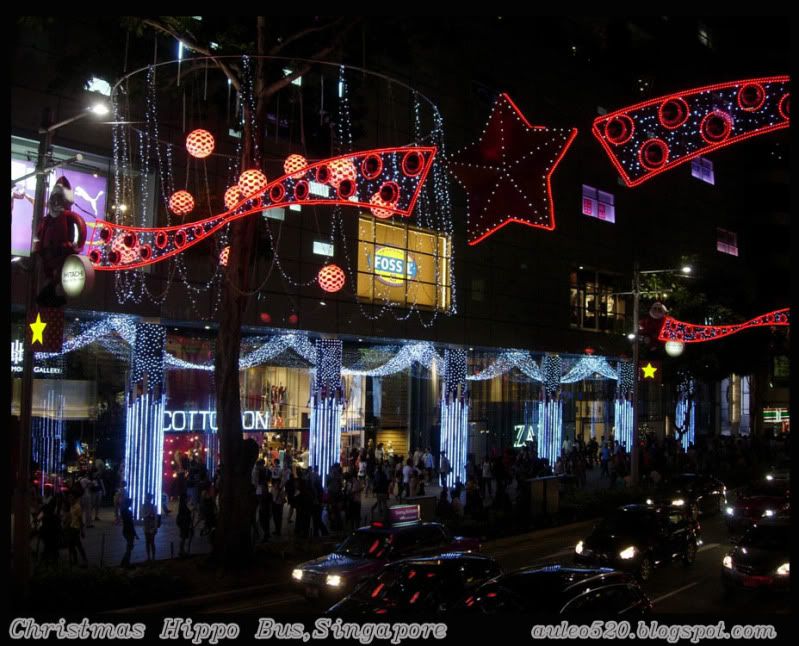 During Christmas time, other than light decoration at Orchard Road, Singapore has another Christmas attraction –The Double decker Hippo Bus
Well, this is not the first time that I board on Hippo bus, but second time. But it was not really a good experience of mine in the first time, because that year Christmas eve was raining heavily. And the time I boarded on Hippo bus , we could go up to the upper deck as we didn't bring along the raincoat (well, we did bring umbrella, but it's totally not a good idea to have umbrella opened while you at the upper deck of Hippo bus, your umbrella would fly away in no more than 1 min when the bus ride starts)
We ended up siting at the lower deck, with freezing cold aircond (which we would prefer if it's under hot sun), but hello, we intended to see the Orchard Road lighting outside, not to enjoy the aircondi in Hippo Bus!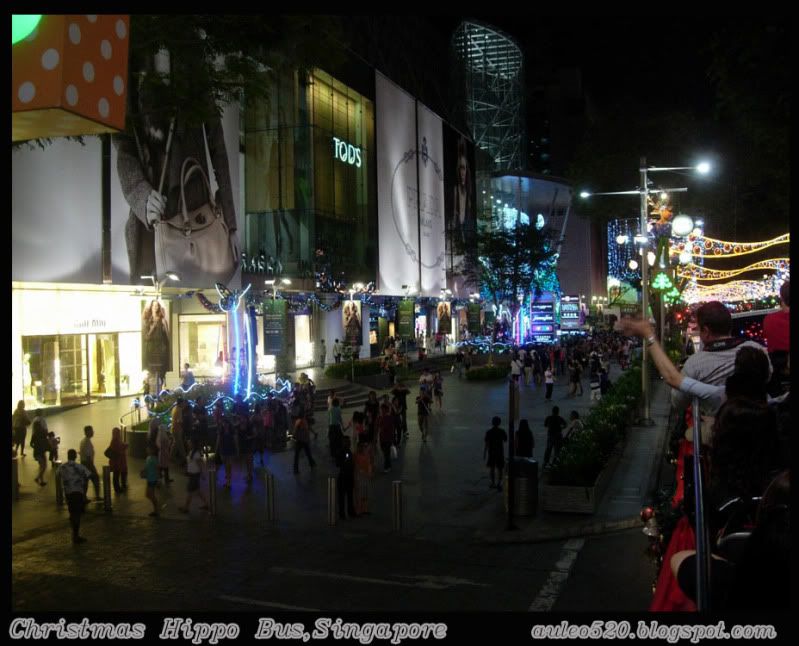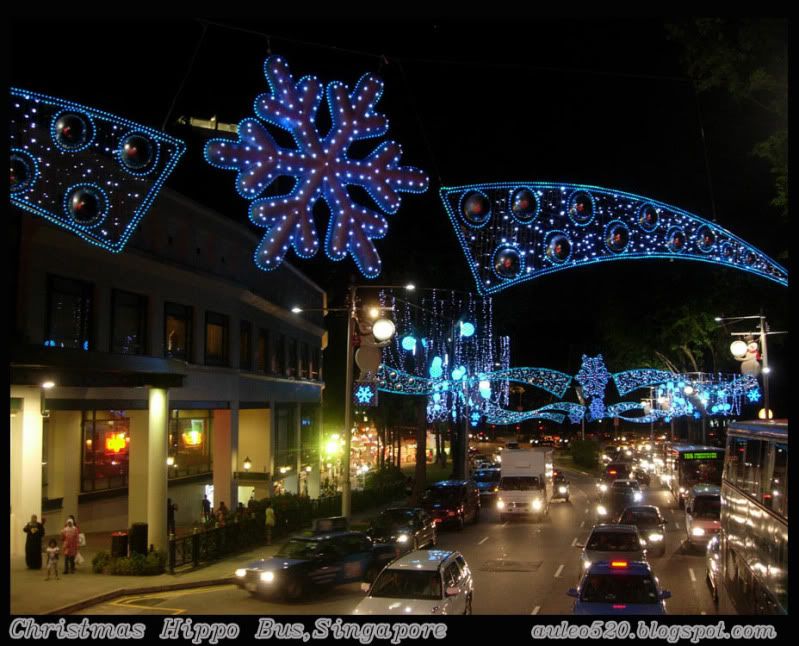 Finally I get the chance to ride on Hippo bus , when my family came to Singapore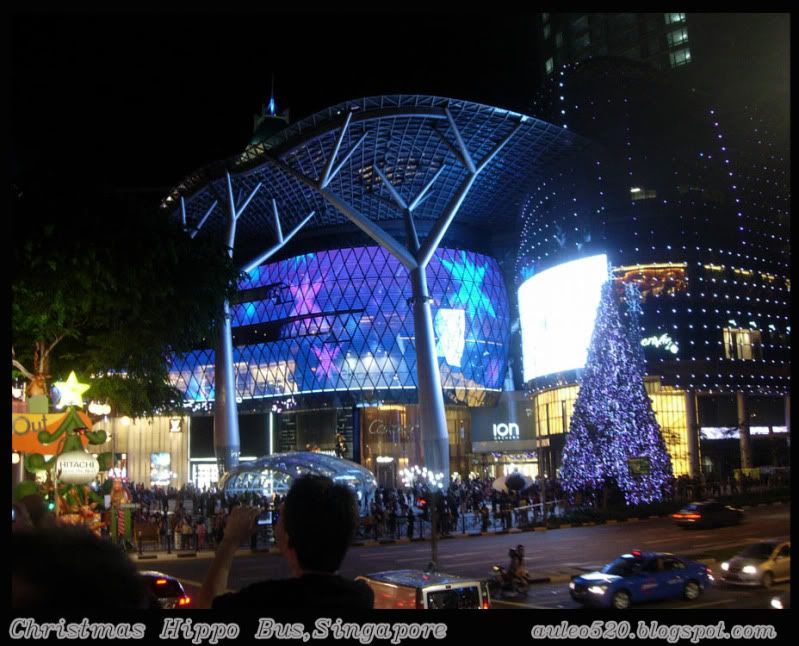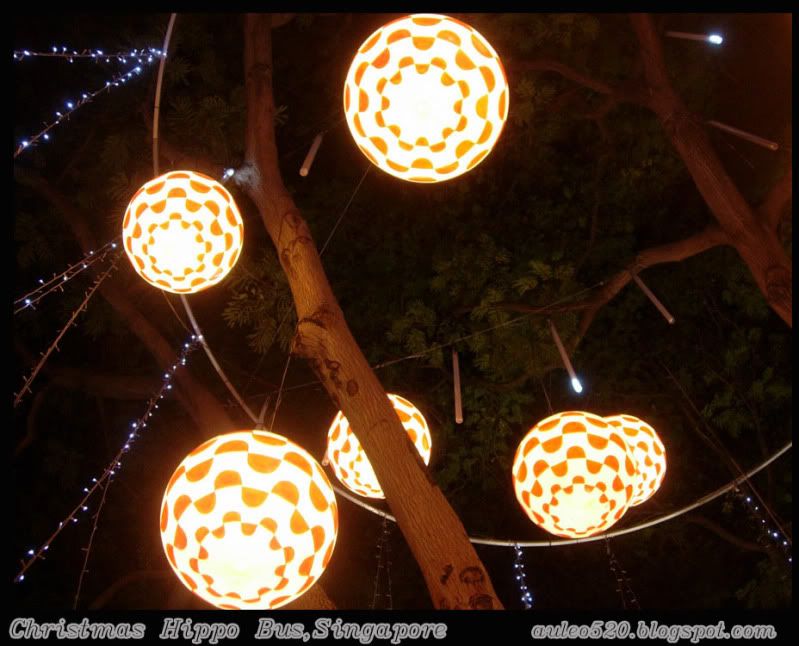 Hippo Bus is a special bus arranged by the Singapore Board of Tourism for the tourists. Tourists can get the free tickets from the counter beside the Orchard Road Tourism Building. But as reminder, please remember to go and make reservation earlier to avoid the tickets fully taken by others.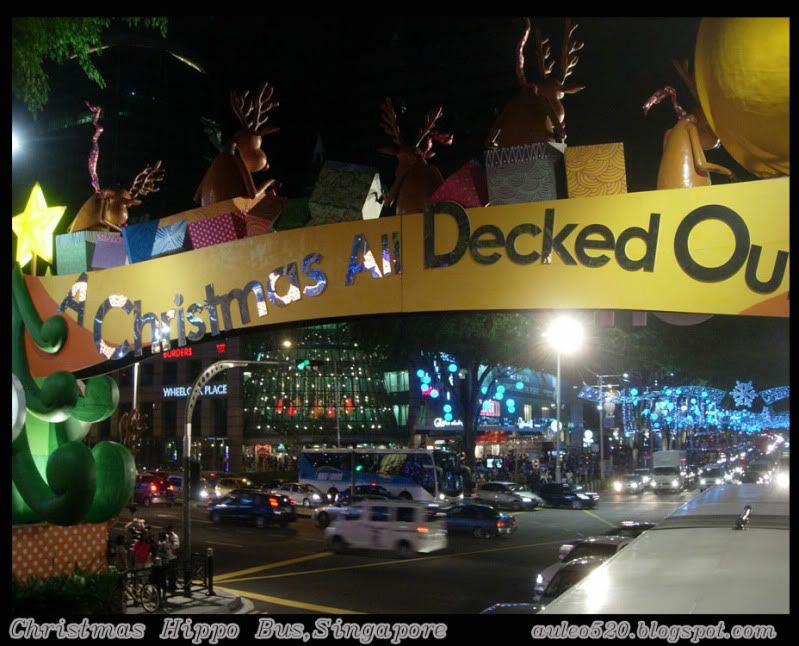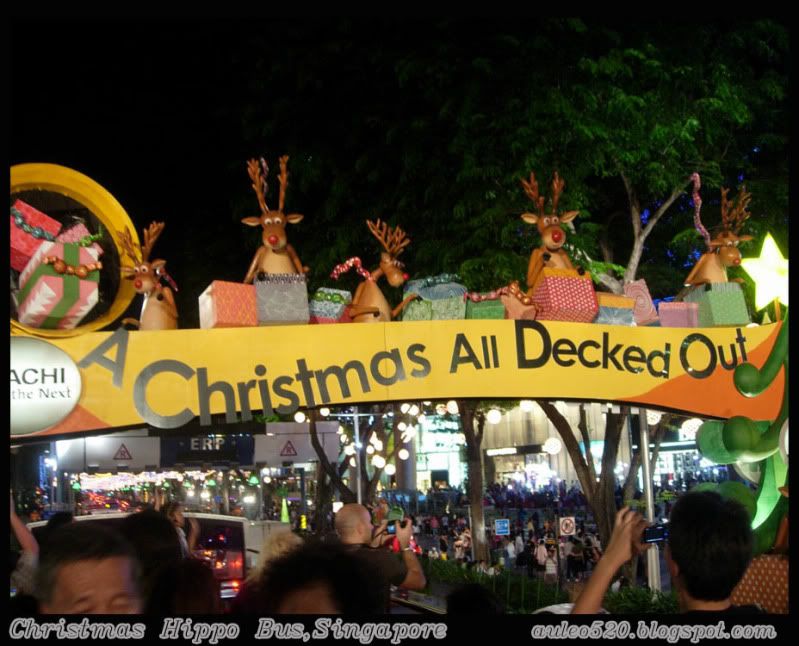 Its route is simple- From the beginning of Orchard Road-Tangling Road until the bus stop in front of Singapore Tourism Board.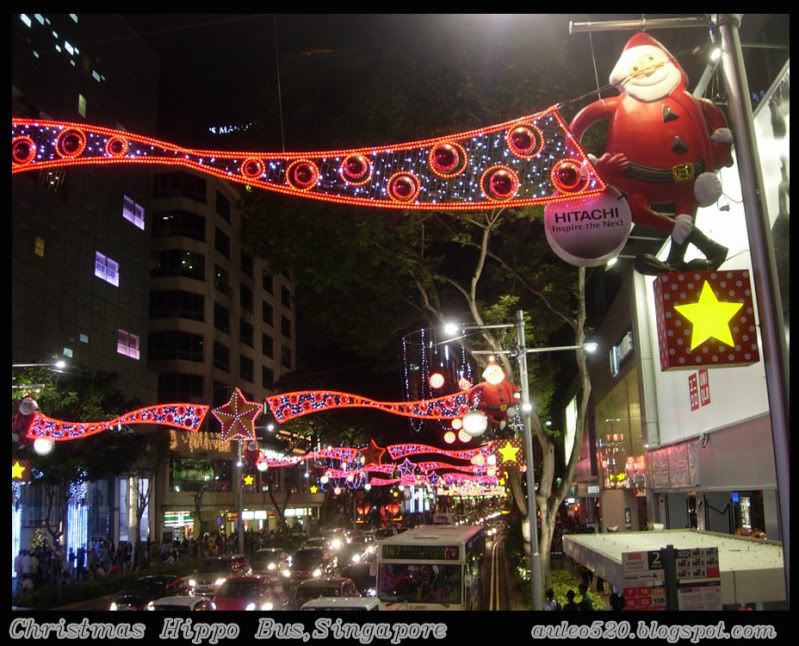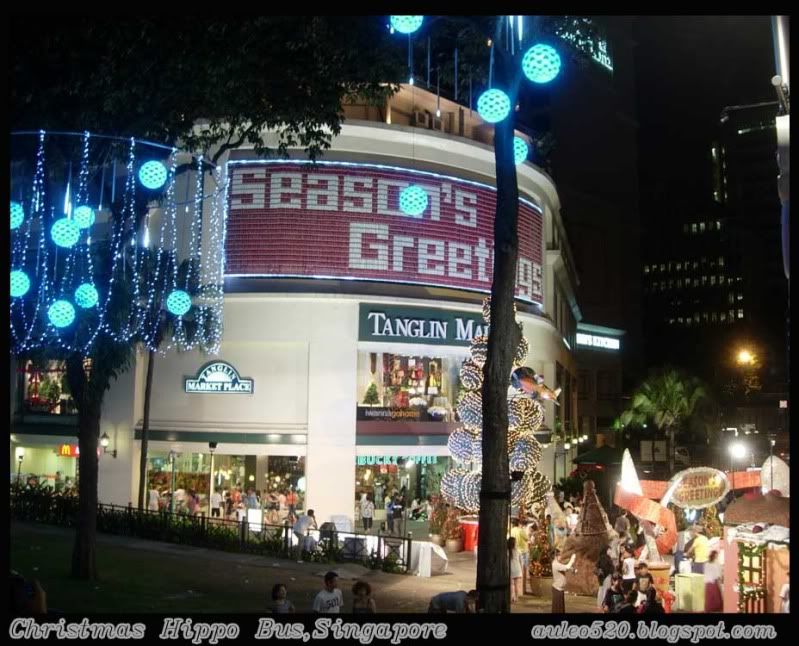 And tell you what, only when you are on board Hippo Bus, you would expect the traffic jam to be terrible (the type of super duper jam), because only this can make you to stay on the Hippo Bus any longer. For my case, I hoped the traffic lights were always Red. And our driver would stop for us to take photos longer.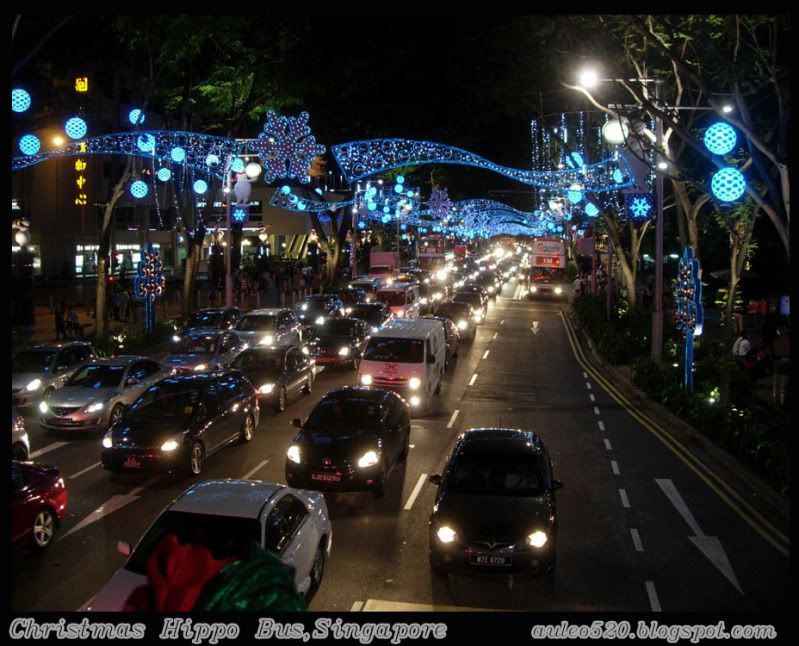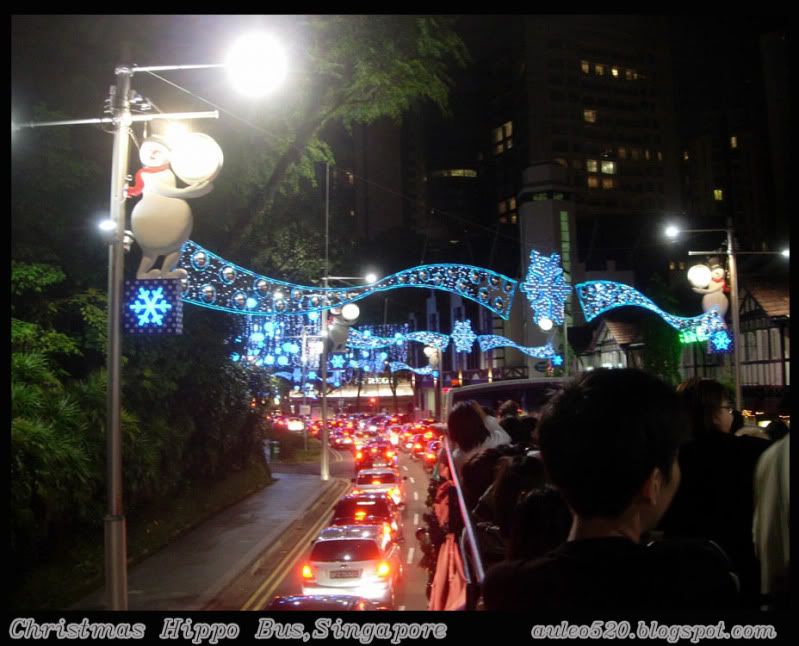 It would be an extra bonus if the guide on board is an out-going and super active personality, and you will never feel boring. I was so lucky that my bus ride was led by a super jump-here-and-there girl, kept leading us to greet the crowd on street "Merry Christmas" . Though not all the pedestrians would give any response to you even you waved your hands for 10seconds. Nevertheless, we did feel the joy of the season to share the wishes.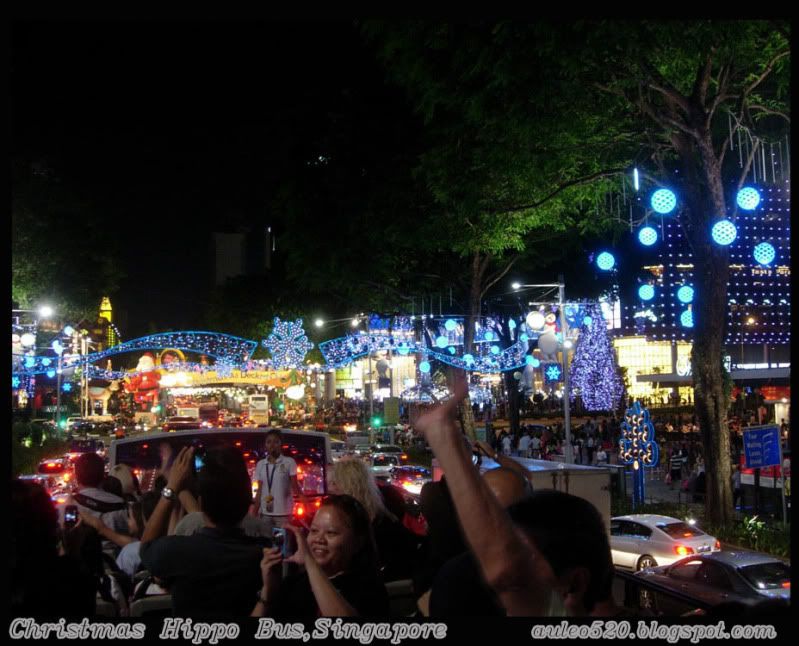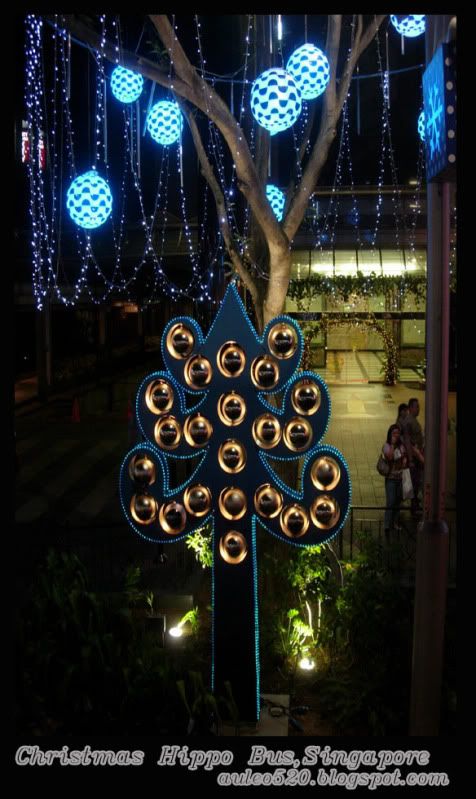 However, as I previously mentioned, the Hippo bus ride is somehow a great dependant on the weather of the day. So if next time you were to take the bus ride, maybe the weather forecast would become your good guide. And wish you to have a memorable Christmas as well. ,
Tips for taking Hippo Bus
1) Make the bus ride reservation earlier,recommended to have 3 hours earlier
2) As long the person who make reservation is holding the white card (Immigration card), then he can make the Hippo Bus reservation for his friends too
3) Not everybody cherish the free bus ride, so you can try taking earlier bus ride if you think of going back hotel earlier (e.g. your ticket is 9.30pm but wish to take 9pm bus)
4) On the Hippo bus, either you take the first row or the last, or else it would be very hard for you not to include strangers in your photos ( and I strongly recommend you to take the last row, you can take better photo from the back)