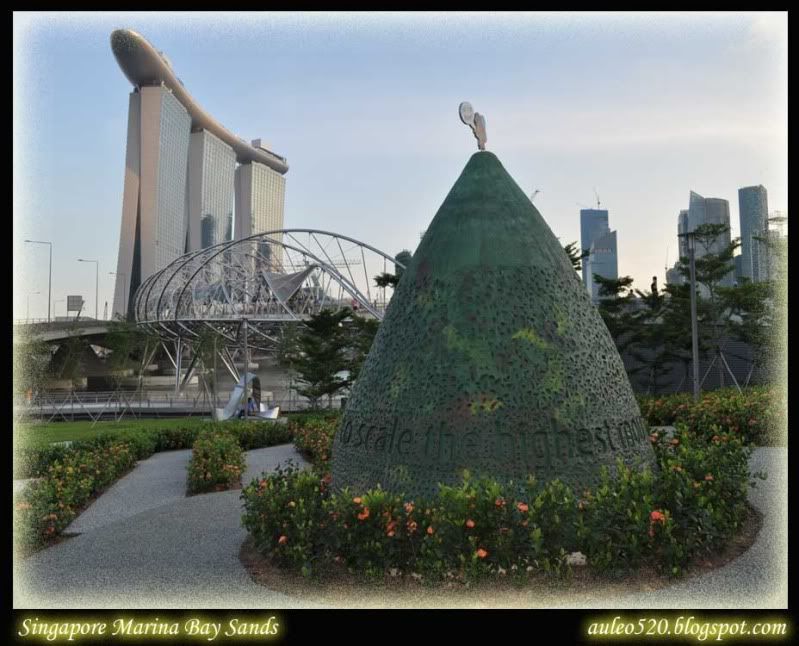 Singapore Marina Bay Sands has already been opened to the public for 2 months, hehe, and till now I only made my time to there to open eye view-to see this mega project which claimed to keep Singapore's economic competitiveness in the future.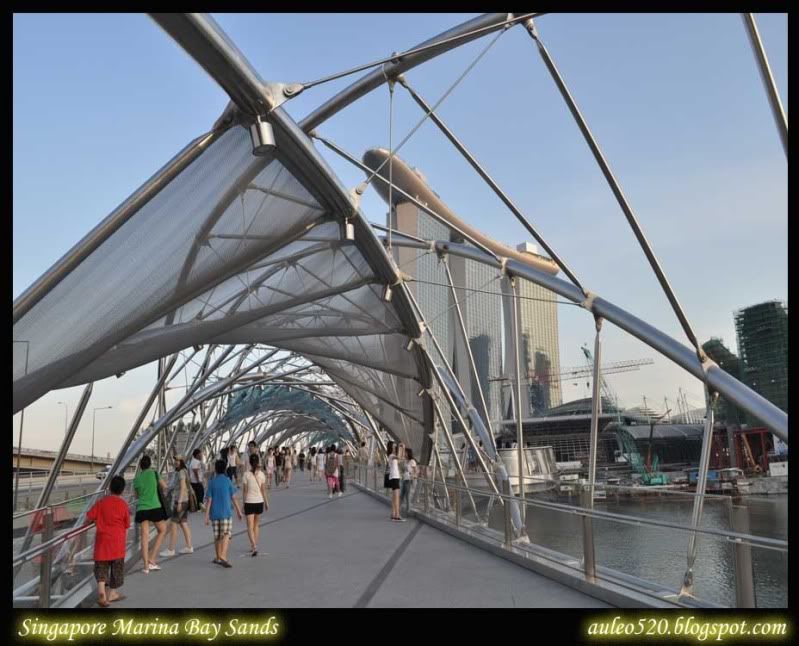 此文中译版 Chinese version of this article
The entrance of the Singapore Marina Bay Sands is this Helix bridge. You will get to see the enchanting Singapore night view from here- towards the famous Merlion statue.
But this famous Helix bridge is only 60% project completion, after you come to the half, you will have to walk to the road side because this Helix bridge is linked to the Lotus-flower-alike building. This is where the Museum located and a theatre which could accommodate 4000 audiences. Well, compared to the casino, Museum and the theatre for sure is secondary-important, thus project completion will take sometime.
And the Bayfront Avenue which is the main road at Singapore Marina Bay Sands, gives me a feeling like being in Macau's Taipa Casino zone- where all the constructions were only be there when there was casino licence being approved. This is so called "contribution" from the casino. Is it really that important the modern economic growth to be casino-driven?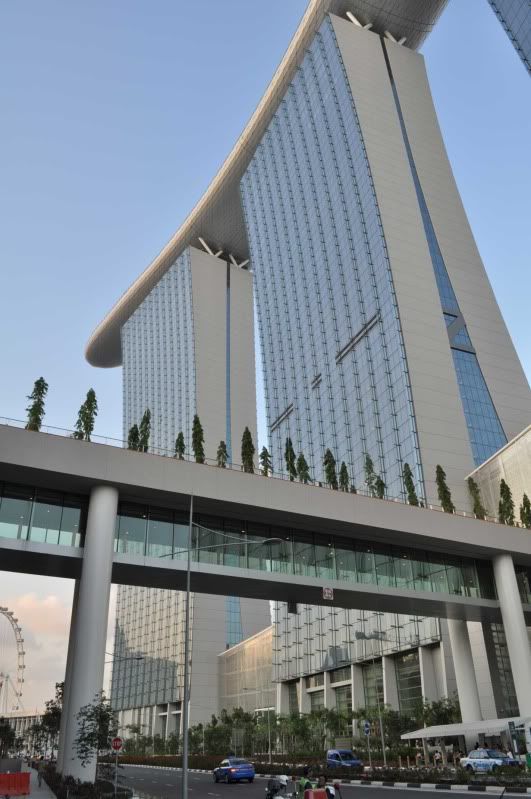 Well, Singapore Marina Bay Sands shopping center gave me an impression that it is only 60% completion and it's rushed to open to the public. And I am not impressed by the mall's interior design where it looks more like a luxurious goods displaying store.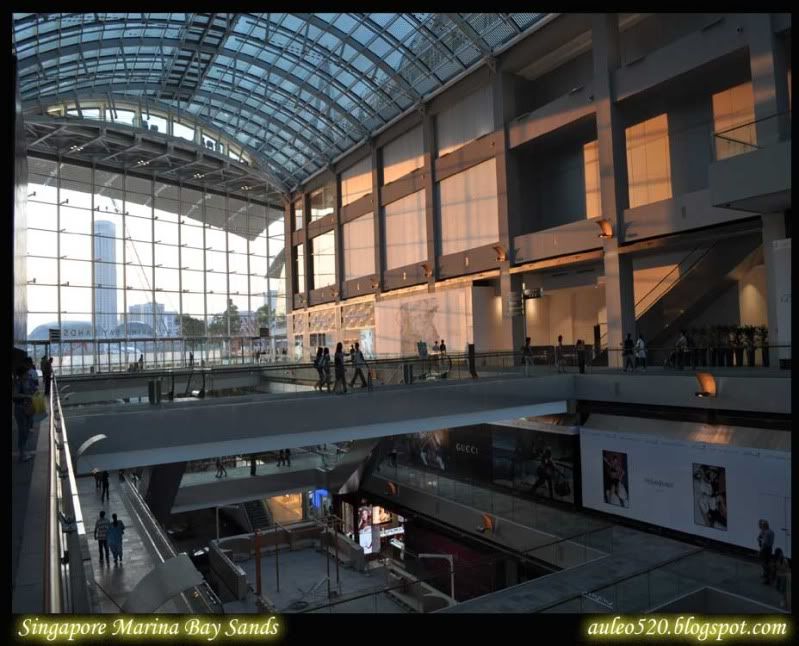 It is not absurd to say this Integrated Resort (IR) is all about casino gaming. This mega project which involve an investment of 5.5billion USD, is aimed to generate a ROI of 1 billion USD a year, and the investment payback is 5.5years. Since its major competitor- the Genting Resorts World had already been open to the public in this year Chinese New Year, Singapore Marina Bay Sands has already losing its opportunity to the long-waited crowd of being the center of topic. Thus, irregardless of whether the shopping mall is nice/convenient to walk/shop, Singapore Marina Bay Sands just anyhow chose a "lucky day" for the gamers.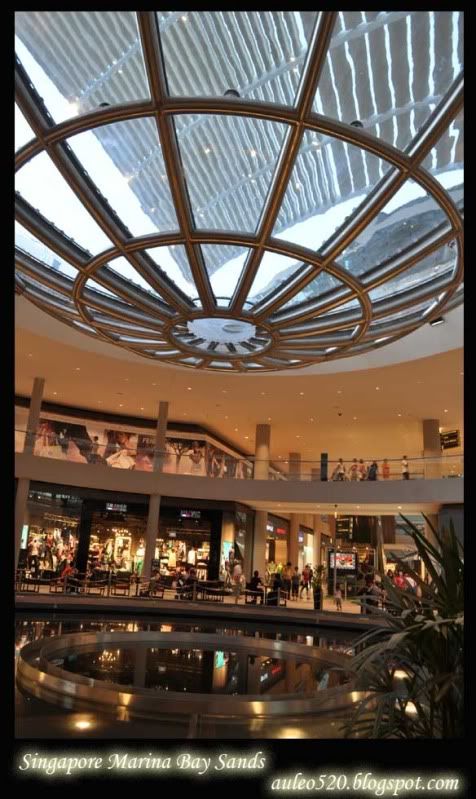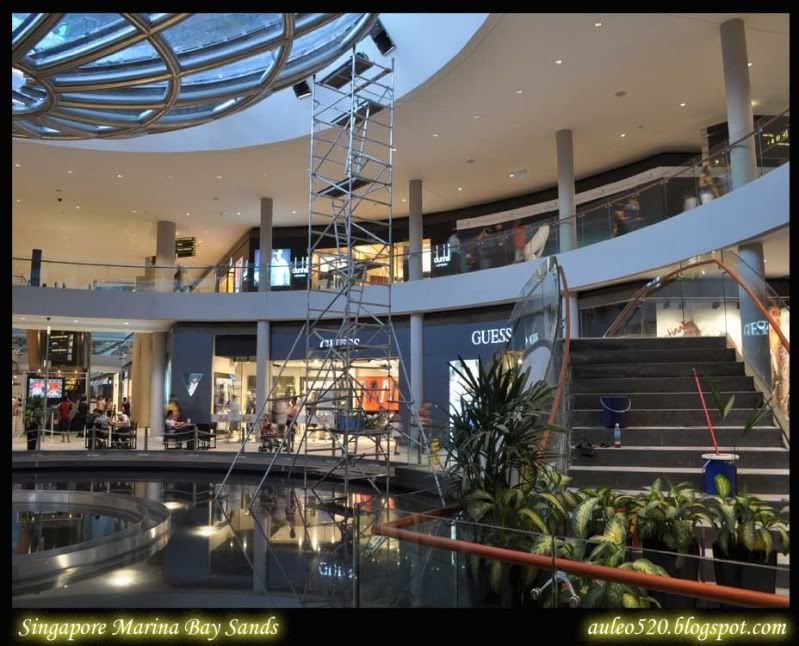 The Las Vegas Sands had built a very famous Venetian Casino in Macau, thus the thier Marina Bay Sands is of the similar style, where at the center of the mall is a canal. But even the mall is already open to the public , it doesn't look like well prepared for the public, and this so called canal looks like a big drain/longkang.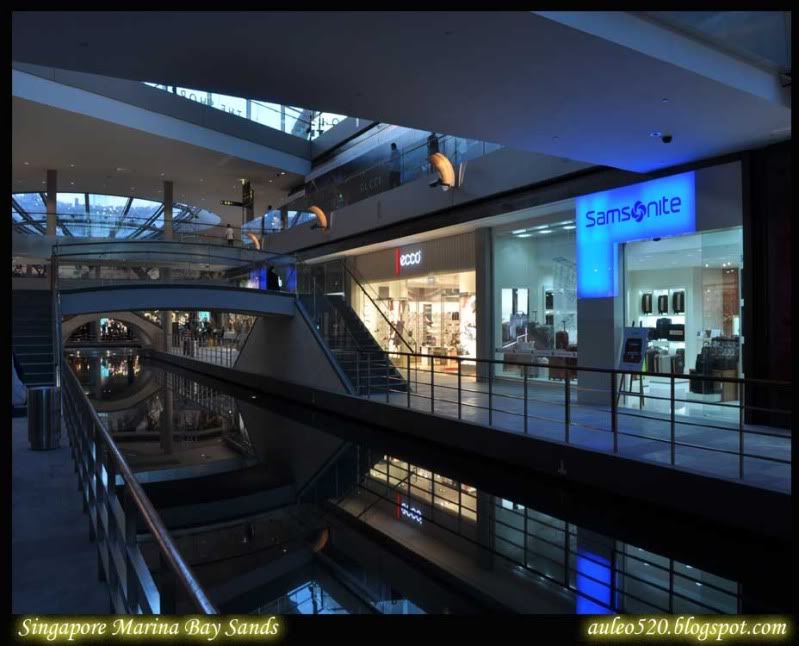 The canal depth looks like only about 20cm, I wonder with this kind of water level, is it enough to float the boats. And even worse, there is bubble in the canal water.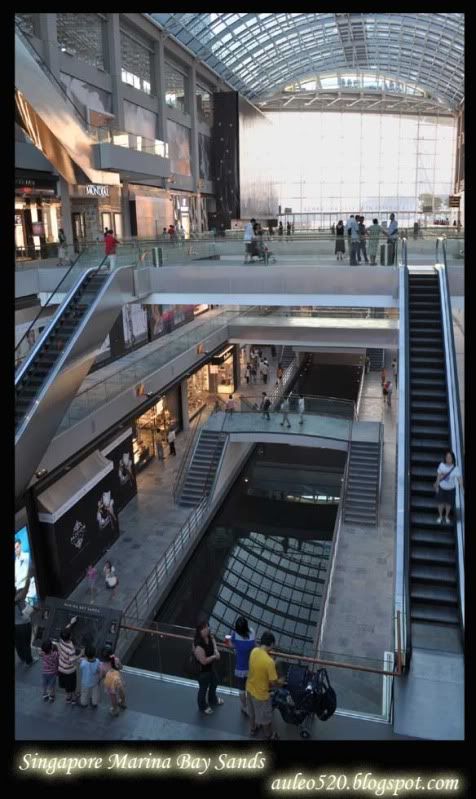 As according to the source I found on internet, CNN reports that "the tax rate for Singapore Marina Bay Sands is only 12% which is much lower than the Macau's 40%, so the crowd will flood to Singapore for the casino". But I do have another point of view where I think casino gaming sector is always related to corruption, but as Singapore such a so called transparent financial body, how would it be having enough "holes" for the regional corruptor to "bleach" the black money? The ordinary gamers' few hundreds contribution to the casino is not even sustainable to pay the casino's staffs. The Singapore government so called "realistic move " , does it mean start of its falling moral purity?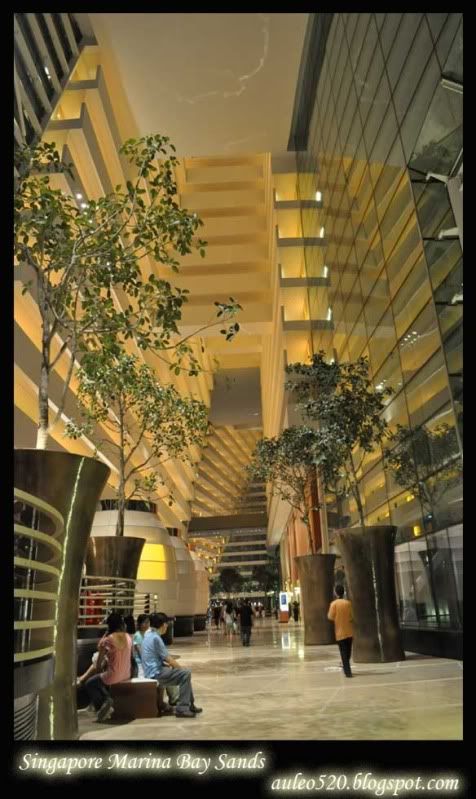 Nevertheless, I found the food sold in Singapore Marina Bay Sands relatively cheap. For instance, this chicken rice in this stall is priced at SGD5, A cup of coffee costs less than SGD2. Still affordable, isn't it?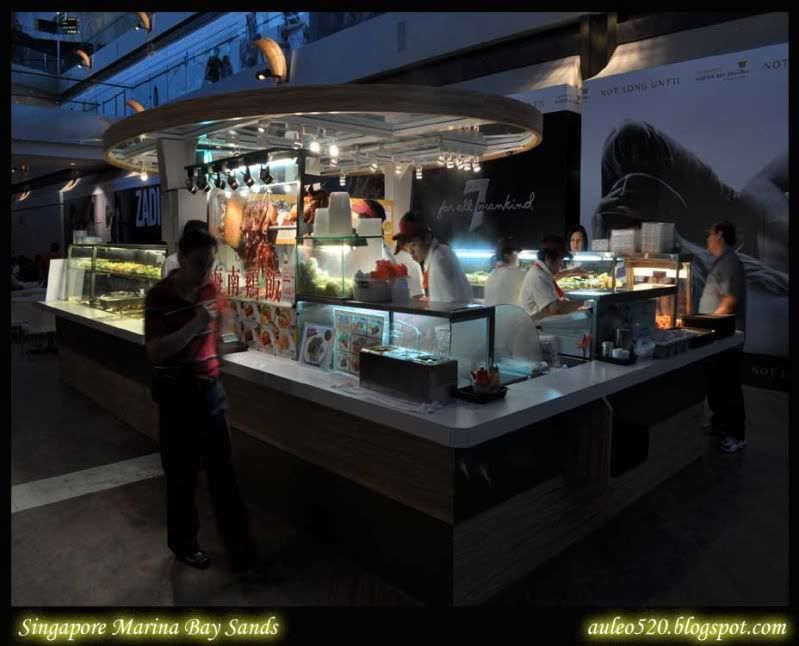 Well, For this trip, I was also look look see see only, because the main attraction to me is the Skypark, where it will only opened to public 1 day after the Singapore Marina Bay Sands officiated on 23Rd June. But Sands is now thinking if to charge an entrance fee for its Skypark, what a bad news.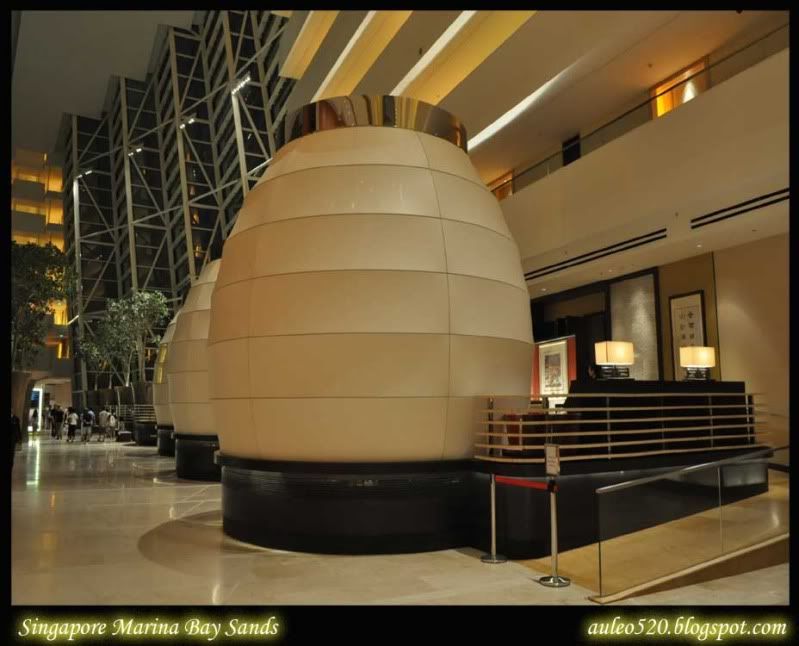 So I will return to Singapore Marina Bay Sands once more when the Skypark is opened, I would like to view the Singapore night views from this angle and this height. And I believe this Skypark could become the Singapore Landmark.
Singapore Marina Bay Sands is "very kind" to arrange the free shuttle bus service to its potential victims- the same tactic that I have seen so much in Macau. This free shuttle bus travelled every 30 min from Singapore Marina Bay Sands towards Orchard road, Suntec City etc Singapore most exciting shopping places. Not to forget, the bus seats are very comfortable.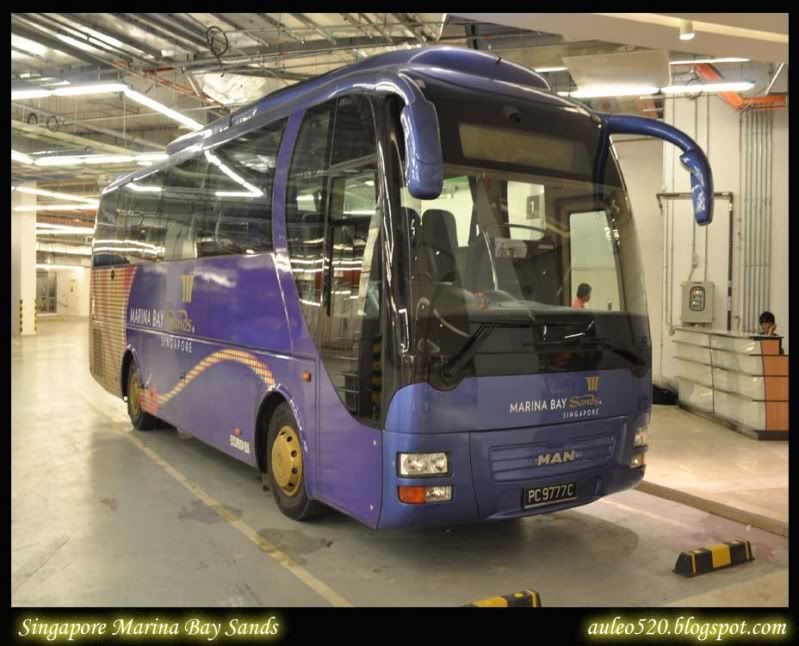 How to go?
Singapore MRT: Promenade station (circle line, yellow), following the "Helix" signboards, walk across the busy road for about 100meters, and you will come to the Casino's entrance- Helix bridge
Free shuttle bus: DFS Galleria Scottswalk next to Orchard road's The Shaw center (diagonal opposite to Ion Orchard shopping mall. Orchard MRT station), You will see MNG/Mango before you reach DFS Galleria Scottswalk.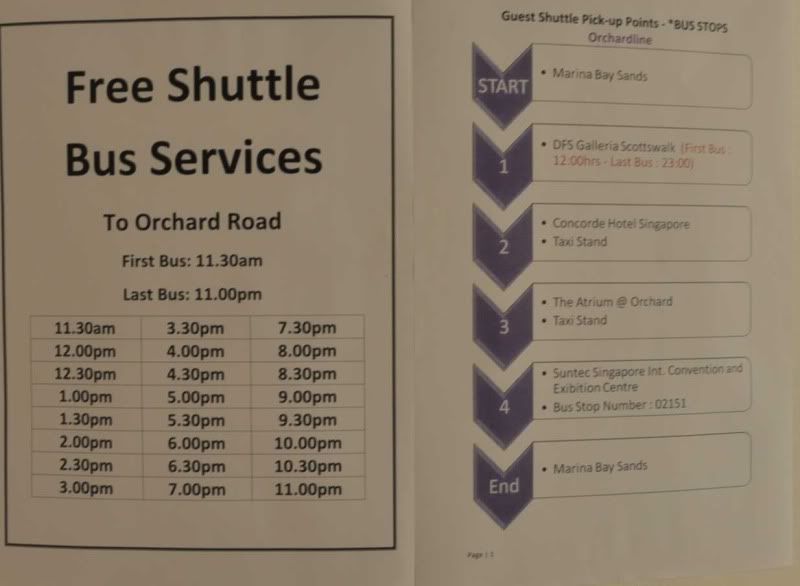 Public transportation: 133, 97 (to reach right in front Singapore Marina Bay Sands main entrance), and I am sure 133 bus terminates its service at Ang Mo Kio interchange.