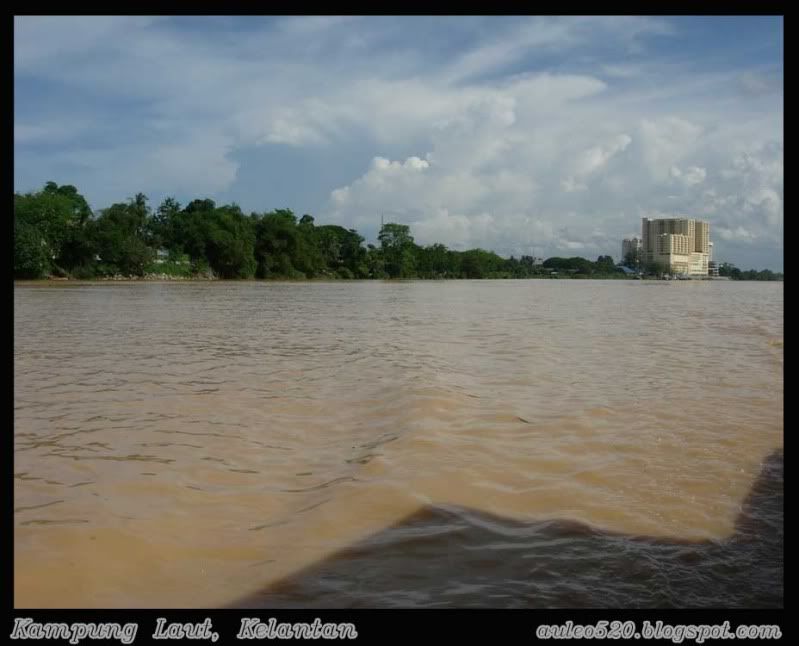 Kelantan- the state ruled by Islamic Party PAS, always like to label itself as the country's leadership in Islamic teachings. For sure by any chance won't be missing from promoting the oldest mosque –Masjid Kampung Laut ,in Peninsula Malaysia.
此文中译版 Chinese version of this article
The description on the tourism brochure stated that originally Kampung Laut Mosque located in Tumpat. But It was being attacked by a severe flood many years ago.In order to maintain its structure, the authority had moved the mosque to the current location near to the Kota Bharu.
Maybe the name is a bit misleading, or perhaps the name was simply too common. I purposely made a call from Singapore to the Kota Bharu Tourism Office to confirm the location of the historical mosque, somehow was still misled.
Perhaps the officer was too aggressive to promote his own hometown, and I was misled to a very common Malay village Kampung Laut which located the opposite shore from Kota Bharu.
When we were walking in the village, I guess the villagers must be wondering from which earth these 2 guys coming from and to visit their village. They must be puzzled to see 2 "loyal followers" from far far away just to visit their village mosque.
The real Masjid Kampung Laut, situated in Nilam Puri. Asking the villagers the direction and way of going the real Masjid Kampung Laut. Their strong accent of Kelantanese's Malay made me fall into big question marks….
We these 2 weird guy appeared in the odd hour (3pm), took the boat beside the Tambatan Diraja, and so strangely exist in Kampung Laut. When I recall, I still find it funny for such situation.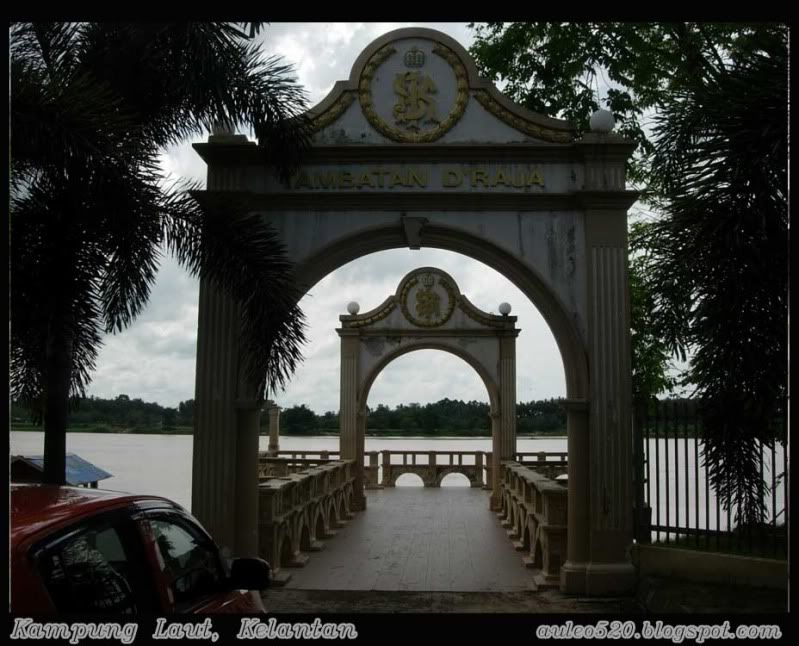 And through the mistake we made this time, we got the chance to experience the Kelantanese life in unconventional way. A different view on Kota Bharu in different angle along the Kelantan River.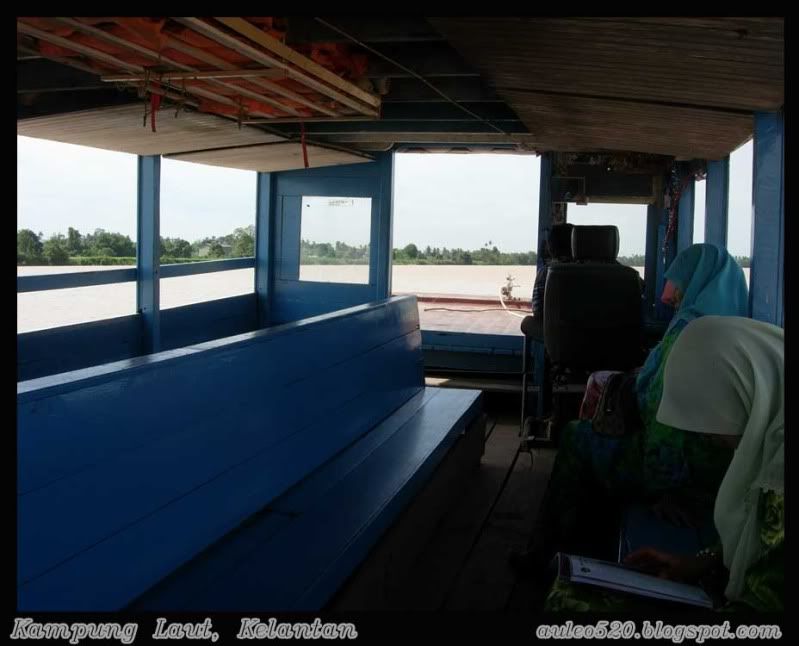 The sky was with bright blue, and Kelantan River was just merely brown, between the sky and river divided by greenery land. Combination of colours- blue green brown is not that matching, but it made me meditate- how Kelantanese survived in year end raining season where flood could happen anywhere easily? Or the way newspaper report is not that objective, well, I believe from now on, I will take note more on Kelantan's news after coming here.
Little Kampung Laut, but its jetty was so gorgeous, but our boat never stopped at this beautifully looking jetty but a plastic floating jetty beside. I was wondering why… it's just such a waste not to use the already-completed jetty .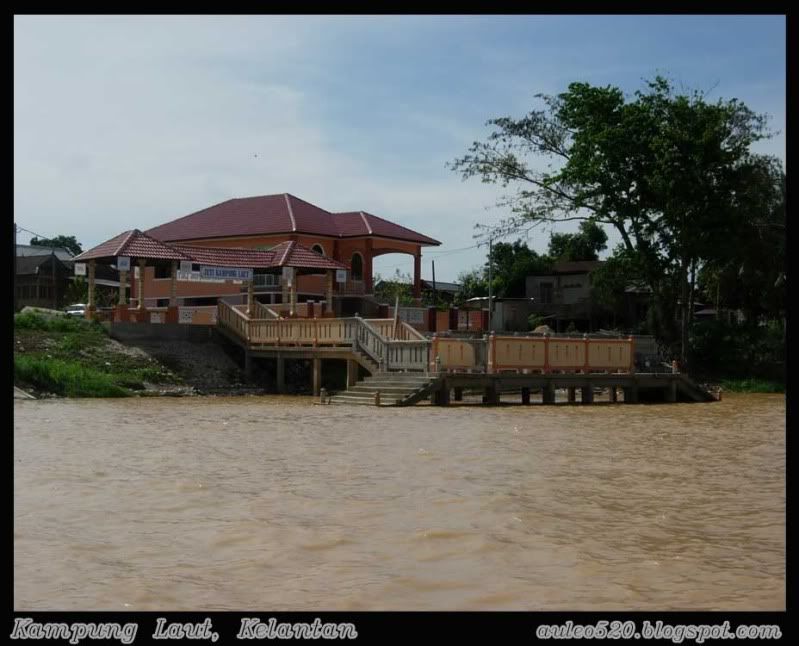 3 motorbike was welcoming us at the jetty , but they were not coming to fetch us, but the 3 Malay ladies same boat with us. It's their family member. None of them bothered us, not even a taxi driver, but only the cats, chicken, and goats happily ran here and there welcoming us.
That is in this small village, I saw something rarely seen in Malaysia- The grocery shop boss was sleeping in the shop with the main door opened widely- not even woke up when we tried to wake him up for direction! Good ! at least it shows Kelantan was far safer than in other places.
When we return to the jetty, we found nothing to be done, and the boat was already stopped at the jetty waiting for people get on board. But there was not even 1, except us 2 tourist at the supposed-to-be busy peak office off hour. And this made the boat owner to stop at the jetty for 30min to wait more people to come.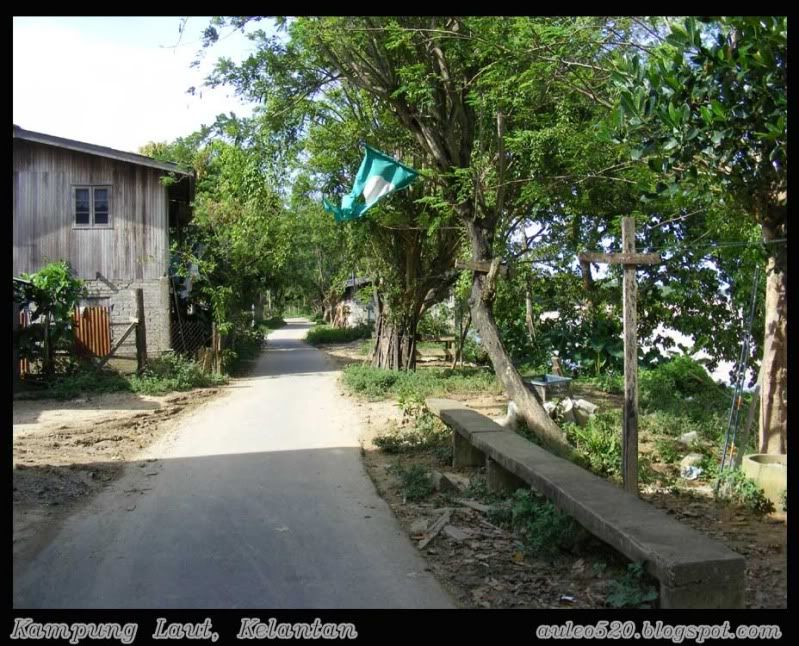 The journey to Kampung Laut was really out of our plan, time could be said waster to have gone to a super-duper common Malay village. But from my point of view, this is where backpacking trip is fun in, because not everything ran smoothly as what was planned. Treat it as a journey and explore the other part of earth. Maybe could gain some other thing which was not beautified and more nature.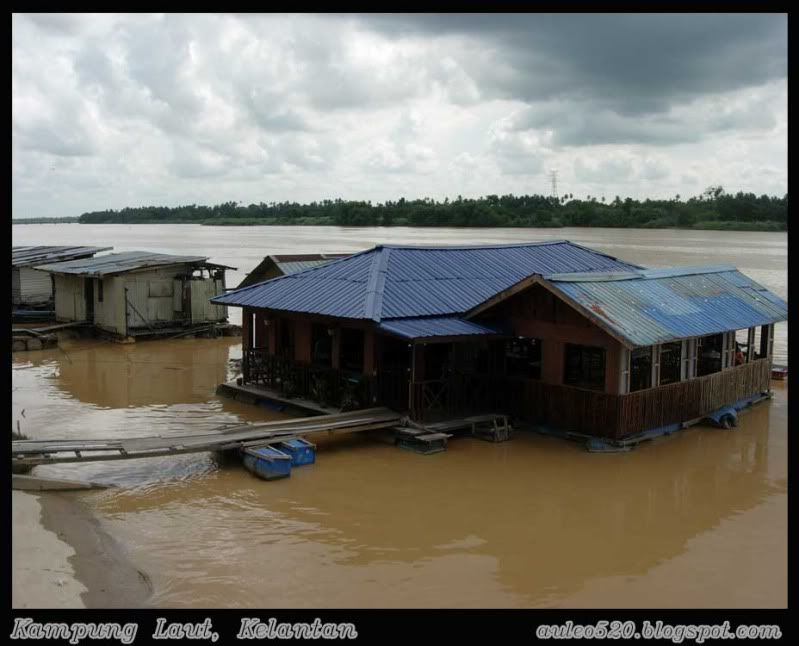 As for this case, we able to see the floating houses along the Kelantan river, their houses were built on numerous floating plastic tank, I think this is a smart way to overcome the notorious floods happen frequently in Kelantan, because their house will float higher when the water level rise up. The intelligence of daily life was not written in the tourism brochure ya.
How to get there?
From small jetty beside Tambatan Diraja, boat departing to Kampung Laut every 40min
Fare:
RM 1.00 per trip